Girl Scout Troop 1791 recently established a 2,000-square-foot pollinator garden with 90 native plant species in Veterans Tribute Park in St. Charles County, MO.  The Troop consists of eight fifth-graders passionate about making a difference.  To combat the decline of native pollinator populations, the girls decided to support pollinators through habitat creation.  Their goal is for the garden to provide shelter and nectaring sources for pollinators and create an educational opportunity for park visitors.
The Troop worked with St. Charles County Parks and Recreation to secure and prep the plot and received a grant to fund their garden from the Missouri Prairie Foundation.  To prepare, Troop 1791's members earned their Girl Scout Gardening Badge and received over two hours of initial gardening education to ensure their ability to plant and maintain the native garden.  Seeds and plants for the garden were then purchased through Missouri Wildflowers Nursery.
Girl Scout Troop 1791 worked with a horticulturist from St. Charles County Parks and Recreation in the fall of 2021 to establish the garden border.  The troop and parks department established a roughly 2,000 square feet semi-circle for the native garden.  Due to a shorter timeline, the parks department killed the grass within the established plot with herbicide.  Using herbicide can be a helpful tool in managing unwanted foliage when applied discriminately, as was done by the county parks department.  Another way to kill grass in preparation for a native habitat is to solarize it using plastic tarps.  The plastic tarp overheats and kills the grass and weeds, leaving the area brown and ready for grass removal.  While effective, this method can take four to six weeks.  After killing the existing grass within the plot lines, the thatch (dead vegetation) needed to be removed to expose bare soil.  Troop 1791 went to work tilling and raking the thatch away to expose bare soil so the native plant seeds could directly contact the soil.
In January 2022, Troop 1791 seeded the bare soil areas in their plot.  A deep soil mix for clay soil was used from Missouri Wildflowers Nursery to enhance the existing soil.  Planting native habitats with seeds can be a slow process that requires a lot of patience.  On average, it will take three years for all plants to bloom.  Native habitat professionals refer to this timeline as "sleep, creep, leap." The Troop planted live plants in February and then marked them with flags to track their growth to create a more immediate plot beautification.  Two posts with bee and wasp houses were added to the mixed wildflower area.  These houses will attract native solitary bee species and wasps that use the tubes as shelter.
This spring will be the first chance St. Charles County residents and visitors will have to witness the hard work of Troop 1791.  If you would like to visit their new garden in Veterans Tribute Park, it can easily be accessed by the walking trail across from Shelter #2 or by using this link https://goo.gl/maps/Aes6rmrCNXQjbDR5A
To follow along with Troop 1791's story, you can visit their blog at https://troop1791.blogspot.com/2022/03/troop-1791-native-garden-girl-scout.html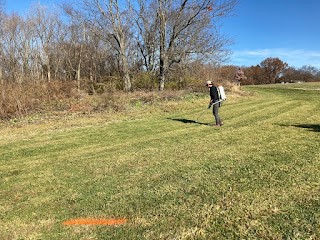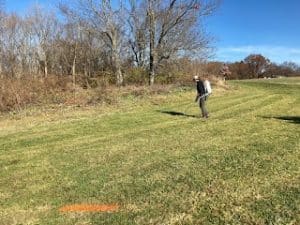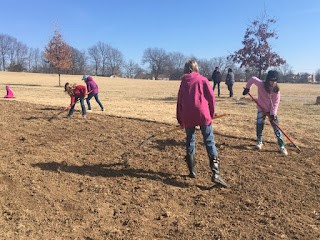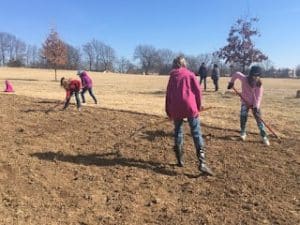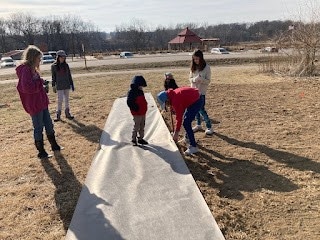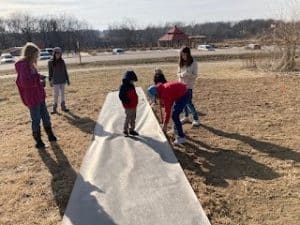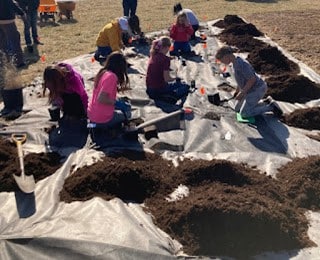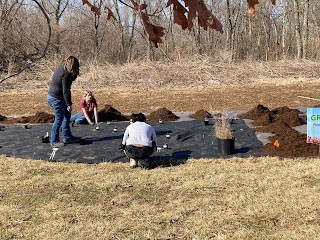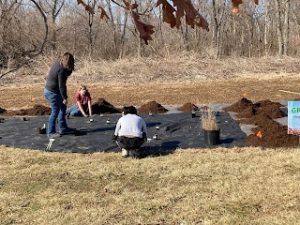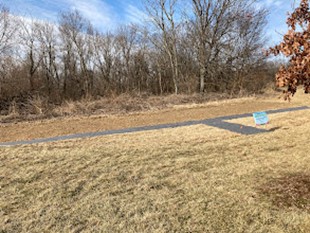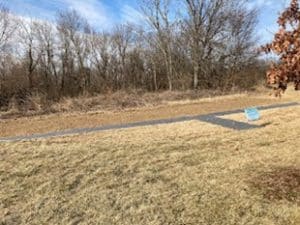 Story by M4M Staff, May 2022