Year: 2018
Counties: Cole County, St. Charles County, St. Louis City County, St. Louis County
Partner: Missouri Department of Conservation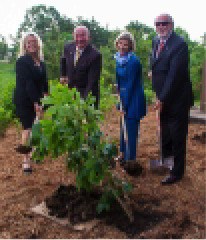 In celebration of National Pollinator Month, MDC Director Sara Parker Pauley helps plant a native red buckeye shrub. Pauley joined Conservation Commissioners Dave Murphy, Marilynn Bradford and Don Bedell before the commission meeting on May 25, 2018 at MDC headquarters in Jefferson City. The red, tubular flowers of the red buckeye are frequented by hummingbirds.
Bee Diversity in St. Louis
Without bees, we wouldn't have fruits and vegetables. Bees need our help, and they're getting a big boost in the city. St. Louis University students are surveying bees, in partnership with MDC. St. Louis is a hot spot for bees and a remnant prairie in Calvary Cemetery has themost species in the city. This work helps people understand the pollinator power of native bees and how to help them. It's estimated that one-third of our calories and 70 to 80 percent of our nutrition comes from bee pollination. Discover the power of partnerships to help bees, the source of our favorite foods. Learn more about pollinators at https://mdc.mo.gov/property/improve-my-property/wildlife-management/pollinators
Planting for Pollinators
Lincoln County homeowner Jeff Esely and his family started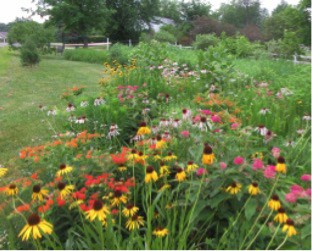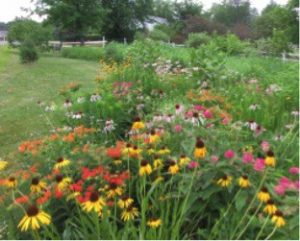 a pollinator planting in their backyard two years ago. Not only is the family doing their part to help native pollinators, they also enjoy watching the diversity of bees and butterflies using the plants. Learn more about planting for pollinators at https://mdc.mo.gov/…/improv…/wildlife-management/pollinators
Pollinator Events
MDC takes an active interest in supporting events to bolster pollinators efforts and broaden awareness of the importance of the monarch. Below are some examples of the events MDC has been attending in 2018.
On June 9, 2018 MDC and partners celebrated National Pollinator Week at Runge Conservation Nature Center in an event called Monarch Mania.Visitors had an opportunity to participate in a fun-filled day of hands-on activities for all ages, such as educational sessions, guided trail hikes, painting, games, crafts and scavenger hunts.
The Missouri Department of Conservation also co-hosted Monarch Madness on September 15, 2018 in St. Charles. MDC, along with the U.S. Department of Energy, Missourians for Monarchs and a host of other partners, celebrated the monarch migration with a special festival of pollinators. Though monarchs are the headliners, the Monarch Madness festival celebrated all pollinating creatures that help our plants thrive. The event offered an interactive and fun way to learn about pollinator declines and what people can do to help.
On September 29, 2018 Gateway Arch National Park and the City of St. Louis celebrated their journey with the Great MonArch Migration Event, where pollinator experts from across the region including the Missouri Botanical Garden, Saint Louis Zoo and the Missouri Department of Conservation led monarch-themed activities. Booths taught visitors how to make milkweed seed balls and insect hotels, shared some fun pollinator crafts and games, and handed out monarch butterfly gardening tips.